A Learning Moments Collection: Children Dealing with Frustrations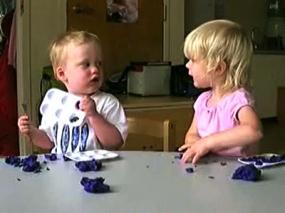 A title in the Learning Moments series
Children, as is true for all of us, meet frustrating situations almost every day. What can we learn about children's emotional intelligence as we watch them deal with these situations? We have to consider the complexity of the cause of the frustration. At times what thwarts a goal is hidden from clear view. At other times the obstacle is clear, but the solution involves risk that is difficult to gauge. At still other times the solution might be clear, but one has to persuade one or two friends to accept a new rule.
This Flash Drive contains eleven high-resolution video clips, with supporting text, that show how children deal with the inevitable frustrations that occur during an ordinary day. Study these clips and add them to your presentations and courses, so that others can "See what children know.™" Share them with parents, so that they too can reflect on how the way an adult reacts to a frustrated child depends in great measure on how the adult frames the episode.
These high impact video clips have been carefully chosen to reveal the clever solutions children invent to deal with frustration. Click Hereto see the eleven titles with brief video trailers and descriptions.
Permission is granted for use of this Learning Moments Collection by one individual program director, trainer, or college educator working with no more than 200 viewers annually in online or live presentations. Usage by large early childhood organizations, colleges, and other training institutions must be negotiated in advance. Please email requests to videatives@videatives.com