A Learning Moments Collection: Art as Literacy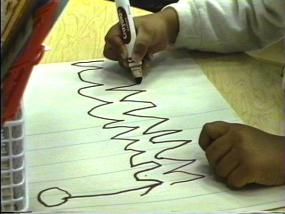 A title in the Learning Moments series
When children draw, paint, pretend, sing, sculpt, mine, and dance they are in effect creating symbols that express their understanding of the physical and social world. Therefore we can treat their work as an early form of literacy. Through a study of their art expressions we learn how children communicate their understanding of the world to others and to themselves.
This Flash Drive contains eleven high-resolution video clips with supporting text that answers such questions as: what to say or not say when a child is drawing, how to judge the skill level of a child dancing, what is interesting about a child's scribble, how to co-play with children as they create pretend narratives, what number concepts are hidden in a birthday song, and why give young children water for their brushes instead of paint. Study these clips, add them to your own presentations or online courses so that others can "See what children know™" Share them with parents so they can appreciate the literacy development that occurs during art activities.
Click Here to see the eleven titles with brief video trailers and descriptions.
Permission is granted for use of this Learning Moments Collection by one individual program director, trainer, or college educator working with no more than 200 viewers annually in online or live presentations. Usage by large early childhood organizations, colleges, and other training institutions must be negotiated in advance. Please email requests to videatives@videatives.com.