A Learning Moments Collection: Learning Through Play - 0 to 3 Years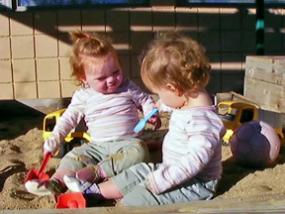 A title in the Learning Moments series
Children learn through play - but where do we look to find the learning and what do we do as adults to support these ordinary moments when children are deciding what to do next?
This Flash Drive contains nine high-resolution video clips with supporting text that answer both of these questions. Study them, add them to your own presentations or courses so that others can "See what children know™" Share them with parents so they can observe the same high level thinking in their own children when they play.
The high impact video clips are carefully chosen to represent key forms of learning, such as letting another child know one's intentions, figuring out what sound a musical instrument can make, and making play more social by imitating another child. Click Here to see the nine titles with brief video trailers and descriptions.
Permission is granted for use of this Learning Moments Collection by one individual program director, trainer, or college educator working with no more than 200 viewers annually in online or live presentations. Usage by large early childhood organizations, colleges, and other training institutions must be negotiated in advance. Please email requests to videatives@videatives.com.