Gracious Toddler - A Thinkprint Video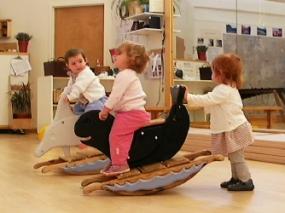 In general this episode shows how a toddler finds a way to maintain a play relationship with her friends even when they deny her a seat on either one of the two rocking horses.
We have made two versions of this video. In this one the likely thoughts are narrated in a voice-over and little "thought balloons" appear on the screen to indicate who is thinking those thoughts. In the other version (titled Gracious Toddler, It Was Mine, But Let Me Help) the video runs without the thought balloons and voice over. In this other version the thoughts are written in the text on the side. We did this so you would have a choice depending on the type of assignment you prefer to make to your students or staff.
Length of stand alone master video clip: 2 minutes
Highlight the text above and paste to a document to have your own copy.
Keywords: Twos, Children-Children, Language, Empathy, Sharing, Thinkprint