Traffic Jam for Toddlers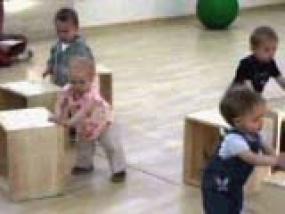 Teachers and parents generally expect gross motor play to strengthen young children's physical development. Perhaps less expectedly, gross motor play with large objects also affords young toddlers opportunities to increase their awareness of peers, to experience a sense of membership in a social group, and to nurture early friendships.
In this Videative, two young toddlers play a highly social game of pushing large wooden boxes across a gymnasium floor. Along the way, they are challenged to solve problems that arise from the physical obstacles around them, as well as from encounters with their peers. More children soon join in the game, and the toddlers find themselves in the midst of a traffic jam.
See how the boys' game has captured the attention of a nearby girl. As a strategy for joining the game, the girl decides to imitate what the boys are doing - she begins pushing an available wooden box. Notice how she pauses to observe as one boy pushes his box toward the center of the gymnasium. Sensing that the action of the game may be getting away from her, the girl abandons the wooden box at the perimeter of the gymnasium and excitedly runs to another available box located close by the boys. Watch as three toddlers momentarily experience pushing their boxes at the same time. Note how the smooth surface of the gymnasium floor supports the children's ability to successfully move these large boxes. See how one boy encounters an obstacle (carpet) and watch carefully as he cleverly maneuvers his box away from the curled carpet and then changes direction. Just as he does so, the girl encounters a different type of obstacle. Her box bumps up against the raised seam of the wooden floor. The busy action of the game invites a fourth toddler to join. He too, pushes his box until it bumps up against the raised seam of the floor. How do you think the children might solve this new problem? Do you think the challenge could encourage them to work together?
Keywords: Ones, Push Toy, Child-Child, Movement, Imitation, Friendship, videative
Length of videative: 16 text pages, 29 video subclips
Length of stand-alone master video clip: 4 minutes, 23 seconds