It Helps to Laugh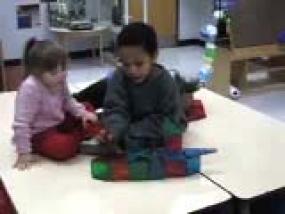 Friendships are important to children's growing understanding of the social world. A friendship is one of the earliest relationships in which children begin to care about, try to understand, and respond to the feelings and needs of someone else. Friendships allow children to experience the emotional satisfaction of sharing and doing things together without the aid of an adult. Unlike relationships with parents, teachers, and siblings, children are usually much closer to their friends in status. Their more equal status may make it easier for children to see the other person's point of view during times of disagreement and tension. By marking the beginning of a newly found independence from parents, friendships can also strengthen the child's understanding of self. With time, children become able to use more sophisticated strategies for planning, monitoring what other children are trying to do, and controlling their own impulses in order to cooperate together.
In this videative we see how the intimacy between two friends supports their ability to establish shared control and play together successfully.
Chaislyn and Chris, two four-year-olds, have been friends for a long time. They have established a style of playing together that is familiar to both of them. [flv]Click here to watch[/flv] their easily identified routine: Chris does something to move the play in a particular direction and Chaislyn follows Chris' lead, imitating the actions and sounds that Chris makes.
As their play continues, we see how Chaislyn likes to create obstacles to assert her presence in the game. These additions receive stern admonishments from Chris, causing them both to laugh. Their laughter signals the end of a round of play; the next round begins with Chaislyn following Chris' direction again. Chris and Chaislyn take turns deciding when to "stop" a specific action, although they fully intend to start it once again. Their "stop" command functions more as a signal that "we are playing together" than a stop in play motivated by some undesired or completed action. By watching clips in this Videative, we witness the way these two children have adapted to the style and rhythm of the other.
Keywords: Fours, Blocks, Child-Child, Maintaining Play, Friendship, Special Education, videative
Length of videative: 10 text pages, 10 video subclips
Length of stand-alone master video clip: 6 minutes, 5 seconds